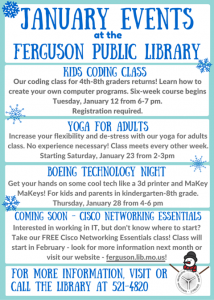 We have lots of great events scheduled for this month!
Do you have a kid fascinated by computers and interested in apps? Sign them up for our kids coding class! They will learn how to make their own computer programs in lots of different ways. The six-week class starts Tuesday, January 12, and registration is required.
Do your New Year's resolutions include being more active or trying new things? Come to our Yoga For Adults class! This free class will teach you how to de-stress and help you increase your flexibility. All you will need to bring is your own yoga mat or beach towel! The class starts Saturday, January 23 and will meet every other Saturday.
The Boeing engineers return, and this time they are bringing some cool tech with them! Our Boeing Invention Night last fall was a huge success, with lots of kids (and their parents!) learning about the invention process and solving several challenges, all while having fun. Boeing Technology Night promises to offer more of the same, with everyone getting a chance to try out MaKey Makeys and a 3D printer.
If you have any questions or want to sign your child up for our kids coding class or Boeing Technology Night, please visit the library or give us a call at 521-4820!