When:
June 3, 2020 @ 2:00 pm – 6:00 pm
2020-06-03T14:00:00-05:00
2020-06-03T18:00:00-05:00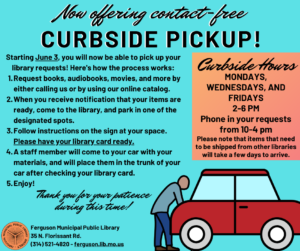 Now offering contact-free curbside pickup!
You can request materials online using our catalog or by calling us from 10-4 pm on Mondays, Wednesdays, and Fridays. Once you've received notification that your materials are ready, come by the library from 2-6 pm on Mondays, Wednesdays, and Fridays to pick up your materials! When you arrive at the library, park in one of the designated spots, follow the directions on the sign at your space, and have your library card ready. We will come out with your materials and place them in the trunk of your car. Simple as that! Please note that the building will still be closed to the public during this time.
Please contact us if you have any questions about our new curbside service. We hope this helps everyone in need of something new to read or watch!